No matter how established your business is, you are now a startup leader
Since early March 2020 business leaders have coped with the immediate needs of working from home, or not working at all, but very soon they will start thinking about how to change their businesses to survive and succeed in the medium to long term. To discover their paths into the future, business leaders must think like startups.
Think like a startup
Leaders of startups imagine the end goal and create the means to get there. The path to the goal is not known, that's the whole point – no one has tried to do this before. They don't have all the information they need. They are putting things together in a way that others haven't thought of yet. They envisage the outcome and take the first step on the journey. Then they evaluate the second step and adapt their course as necessary.
Startups have no inhibitions about re-engineering traditional processes or using the best tools for the task. The reasons why business must change and adapt are compelling. The only issue is how we do it.
Business must reform
Philip Lowe, Governor of the RBA, gave a wakeup call when he said that this is likely to be "the biggest contraction in national output and income that we have witnessed since the 1930s." He went on to say that we must reinvigorate the country's growth and push forward with reforms that would move us out of the shadows cast by the crisis. He said we won't move out of those shadows unless we do business differently. Continuing with pre-pandemic business methods will only lead to failure.
Behaviours have changed
Many employees got used to working from home, using Zoom or Teams and not catching flights.  Consumers got used to shopping online and enjoying a takeaway delivery at night while watching Netflix.
Parents got used to home-schooling and our kids got used to working remotely with technology. We all share the burden of billions of dollars of long-term debt through essential Government bailouts.
The entertainment, construction, education, sport, aviation, shopping centre, office accommodation, travel industries and many, more are hit by structural changes that may last for a long time.
Severe consequences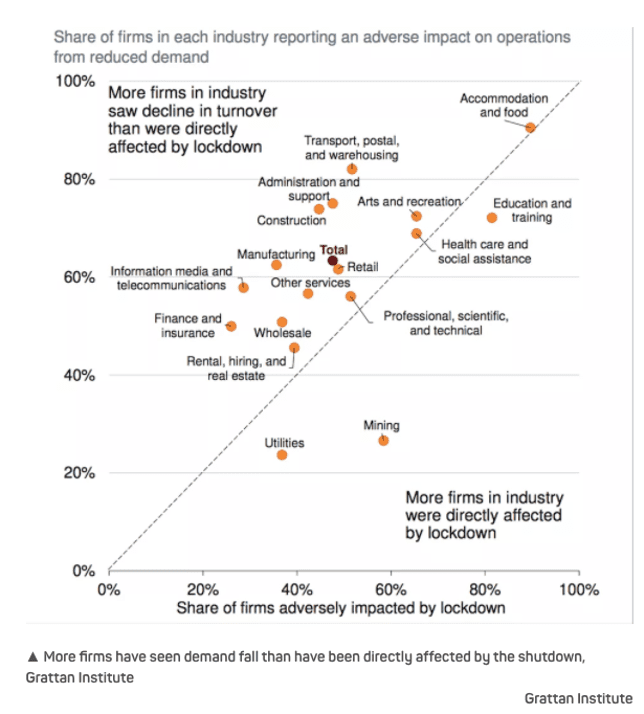 Source: 'Shutdown: estimating the COVID-19 employment shock', April 2020, The Grattan Institute, B. Coates, M. Cowgill, T. Chen, and W. Mackey
The consequences of the pandemic will be severe. It's easy to imagine universities without foreign students, office towers without tenants, tourist operators without foreign tourists and empty shopping centres. Some customers won't want their pre-pandemic services at all, and many will want their goods and services delivered differently. There won't be much cash to splash and costs will be cut. Experts believe that pandemics will emerge again, and we must be prepared for that eventuality. Business survival will require new ways of thinking and new business behaviours.
The big answer is go digital
Businesses have to change how they service customers, and the biggest enabler of change is digital technology. Customers want more than bricks and mortar, face to face and paper files. Customers demand the convenience and speed of online service.
What is digital?
''Being digital' means reengineering business processes to include on-line, fully automated processes from the customer to the back office with no need for human intervention. This means:
Customers can expect instant feedback to their requests
The system is available in real time 24/7
some processes are automated
The system is available anywhere with an internet connection.
Digital is a driver for change, and it defines the business processes. Business processes must change to fit with the computing world and not the other way around. Digital means regular improvements. For example, when you buy a Tesla, it is in the worst state it will ever be, as new software updates are downloaded into the car's systems regularly.
How can in-house legal undertake a digital transformation?
Take the broken processes and pain points and re-engineer them with the right technology. Digitise outmoded processes and workflows. There are very many solutions out there to choose from.
Document management systems will help those few lawyers who were still depending on paper files. Paper files can't survive the pandemic as users of paper files can't collaborate with their colleagues working at home with paper.
Systems which help manage legal intake ensure efficient allocation of matters to the right lawyer and avoid manual management.
Self-help systems for simple tasks like NDAs give instant results to clients and frees the lawyer for more commercial work.
Systems that help contract automation save time and enable instant service for customers.
Automated compliance systems reduce risk.
Data collection enables external legal spend to be identified and controlled.
The overall results of being digital are faster turnarounds, better service for internal clients, better reporting and transparency, the ability to manage risk instead of mundane tasks and a better focus on commercial strategic matters.
At Dazychain we help our customers to digitise their core legal functions. The Dazychain legal operations system helps lawyers re-process the core functions of in-house legal practice and manage their matters, documents, knowledge and intake.
Interested in exploring Dazychain's solutions?