Intake and Triage
Legal intake software for
in-house legal teams
Automate. Simplify. Assign. Delegate.
Most in-house legal teams receive briefings from a surprisingly large number of sources: paper forms, email, telephone, an impromptu visit, or a passing discussion in the lunchroom.
Automating the matter intake and briefing process is an obvious way to streamline, automate, simplify and improve the internal client experience while reducing matter durations for the legal team. A standardized intake and triage procedure ensures all matters are treated consistently, created and assessed immediately, reducing the risk of matter loss or extended elapsed time for critical matters.
Dazychain's legal intake solutions help legal teams to optimize intake and triage, speed up the team's response to clients, and save hours of administration time each week through automation.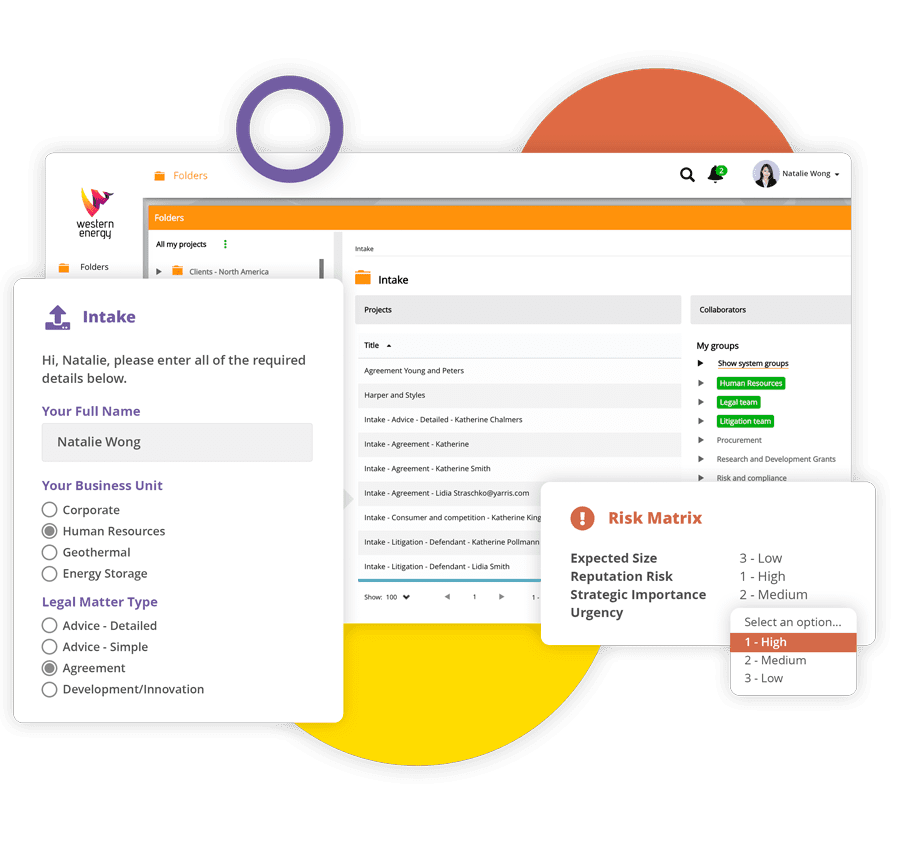 Standardize intake with custom intake forms
Create a simple and convenient intake experience
Intake forms provide a structured format for collecting matter-related information. By using Dazychain's customized intake forms, legal teams can streamline the legal intake process, and ensure that they receive consistent and complete information for each matter, reducing the risk of missing critical details or making errors.
The intake form can include a wide range of information such as internal client details, matter type, region, business unit, urgency, related matters, associated documents and emails and briefing background.
When the internal client submits the form, a detailed matter is created in the Intake folder in Dazychain. The nominated team members are notified via email and Dazychain that a new matter has arrived, at which point they can assess the matter, triage it for urgency and appropriateness, allocate it to the appropriate team member and move it to the nominated location.
Generate more meaningful reports
Data integrity you can rely on
Build data collection for intake and triage for more detailed and granular reporting and produce insightful information that spans the entire matter management process.
A more streamlined intake process supports data consistency, completeness, and reliability, enabling legal teams to extract valuable insights, assess performance, and make informed decisions that align with the organization's strategic goals.
"…what we tended to do previously was, every time a new instruction came in, we'd open a new matter. Dazychain gives me the ability to quickly search and identify whether we've already looked at something similar (or the same), and so instead of opening a new matter, we just open an extension of the existing matter or leverage the work that was previously done."
Transform your legal department
Dazychain matter management systems are the ideal choice for your team. This legal matter management software suite is designed specifically for in-house legal departments. Built from the ground up, it provides the features, functionality, and flexibility you need to deliver real value to your entire organization.
Centralize emails and documents

Increase accountability through transparent, automated workflows

Know exactly where your organization stands in regard to crucial matters
Boost your department's performance with a seamless intake process!
The efficient management of legal matters is critical for in-house legal teams, and it begins with a well-structured intake and triage process. Dazychain's legal intake software provides simple solutions to the key challenges faced by corporate legal teams.
We ensure that the in-house legal team has the tools to work more effectively with internal and external clients. Dazychain eliminates the need for unnecessary back-and-forth between clients and the team. And our intake and triage process offers a quick, seamless, and impressive experience for all stakeholders. Enjoy faster turnaround times, more detailed instructions, better briefing and seamless workflow management as Dazychain takes care of intake and triage for you.
See Dazychain in action
With Dazychain's innovative platform you can…
Showcase your strategic value

Track, measure, and present every legal decision, regardless of its size

Highlight your invaluable contribution to the company's growth and direction

Elevate your role with Dazychain as the spotlight that underscores your strategic prowess