Legal Compliance and Risk Management
Compliance and risk management software for
in-house legal teams
Identify. Track. Respond. Mitigate.
The key responsibility of any in-house legal department is to safeguard the legal interests of the business. Dazychain's legal compliance and legal risk management features empower corporate lawyers to meet compliance and governance legislation, stay vigilant to risks, and report on emerging or potential risks.
Utilize Dazychain's powerful software for managing legal risk, and its data-backed analytical insights to create a risk-aware reporting culture. Reduce human error in risk control and reporting.
Our legal compliance management and legal risk mitigation solution is a centralized, cloud-based platform that automates workflows, provides real-time risk analysis, and facilitates legal collaboration, making the risk assessment process easier, particularly for contract expiries and litigation requirements. Dazychain is the innovation you need to future-proof your company against reputational risk or missed deadlines.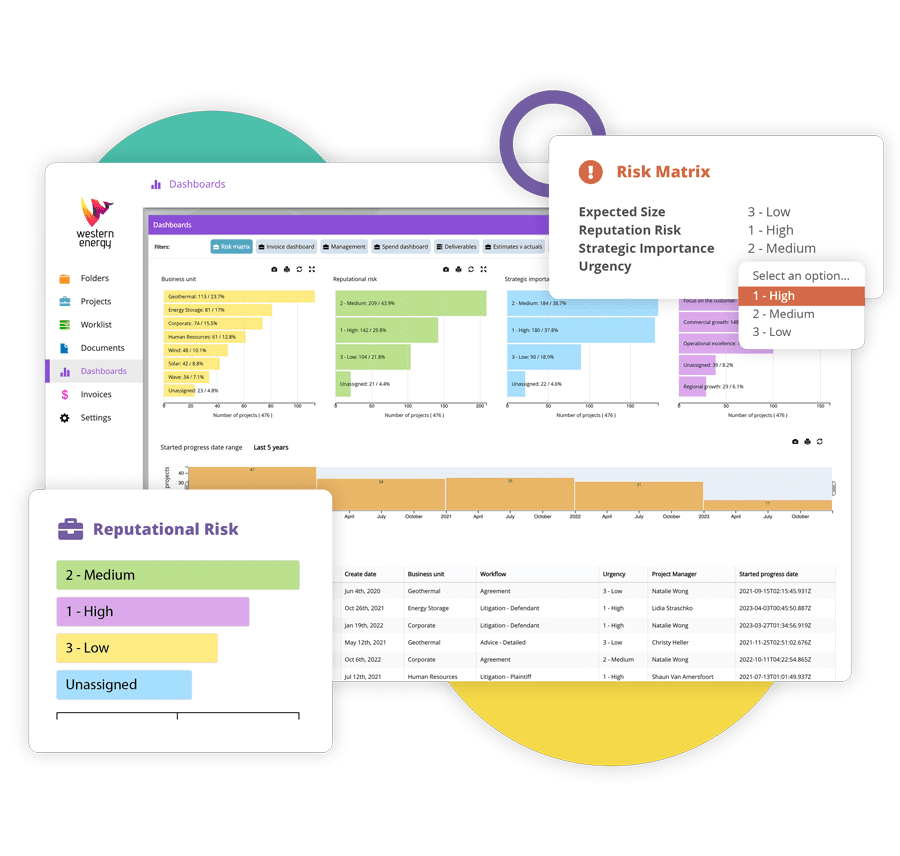 Cutting-edge legal risk management for corporate legal departments
Legal risk management is about identifying, prioritizing, reporting, and mitigating risks. The stakes are high when it comes to corporate risk analysis and management. In-house legal professionals need to categorize and report on a range of risks, relating to intellectual property, contracts, employment law, corporate governance, third-party relationships, litigation, corporate reputation and dispute resolution.
Regulatory compliance software for small businesses
Corporate legal compliance is a key aspect of corporate governance and risk management. It's not just about avoiding legal trouble. The future and reputation of the business are at stake.
Keeping up with the sheer volume of legal proceedings while ensuring you're compliant with ever-changing norms can be challenging. It's not just time and effort-intensive but also prone to a lack of automation and reporting. Operational process automation is the only solution.
Dazychain legal compliance management software enables you to flag regulatory requirements in real-time and assists with communicating them to the broader legal team.
"I recommend Dazychain to other teams. It's a flexible tool. I can see it has a lot of power, and it's a function of how much time you dedicate to using it."
Cloud-based centralization
Most in-house legal teams have matters spread across multiple drives, spreadsheets, and folders. Matters are often decentralized, hard to access without permission, and inconvenient to work with on a daily basis. When some employees leave an organization, their computer and email are deleted, along with all of their work history. Managing risk and compliance is easier with a centralized platform creating transparency and accessibility.
"Dazychain has been critical in helping us capture key data points – we can measure the proportion of legal work that is strategic versus business-as-usual, identify our high-use stakeholders, analyze legal work that flows from core compliance obligations and transparently manage workflow and capacity."
Legal risks management with Dazychain
Optimize legal compliance and risk management
Dazychain's robust compliance and risk management software keeps the unique needs of in-house legal teams at its core. It offers a full suite of features to help in-house legal teams achieve compliance and gain transparency and control of the processes.
Lawyers can make qualitative improvements to legal compliance and risk management so the business always has a legal safeguard.
See Dazychain in action
With Dazychain's innovative platform you can…
Showcase your strategic value

Track, measure, and present every legal decision, regardless of its size

Highlight your invaluable contribution to the company's growth and direction

Elevate your role with Dazychain as the spotlight that underscores your strategic prowess