Legal Vendor Management
Legal vendor management for in-house legal teams
Sourcing. Performance tracking. Collaboration.
Dazychain's vendor management function is an effective, customizable tool for in-house lawyers to streamline outside counsel and legal panel management. This system helps your corporate legal department:
Make smarter sourcing decisions for external legal vendors, improve productivity and reduce costs
Streamline processes and communication with external legal teams
Manage internal clients, external counsel and outside counsel spend.
With Dazychain's legal vendor management system, your in-house legal counsel can access a wealth of resources, such as vendor data, spend reporting and metrics to meet your organization's needs.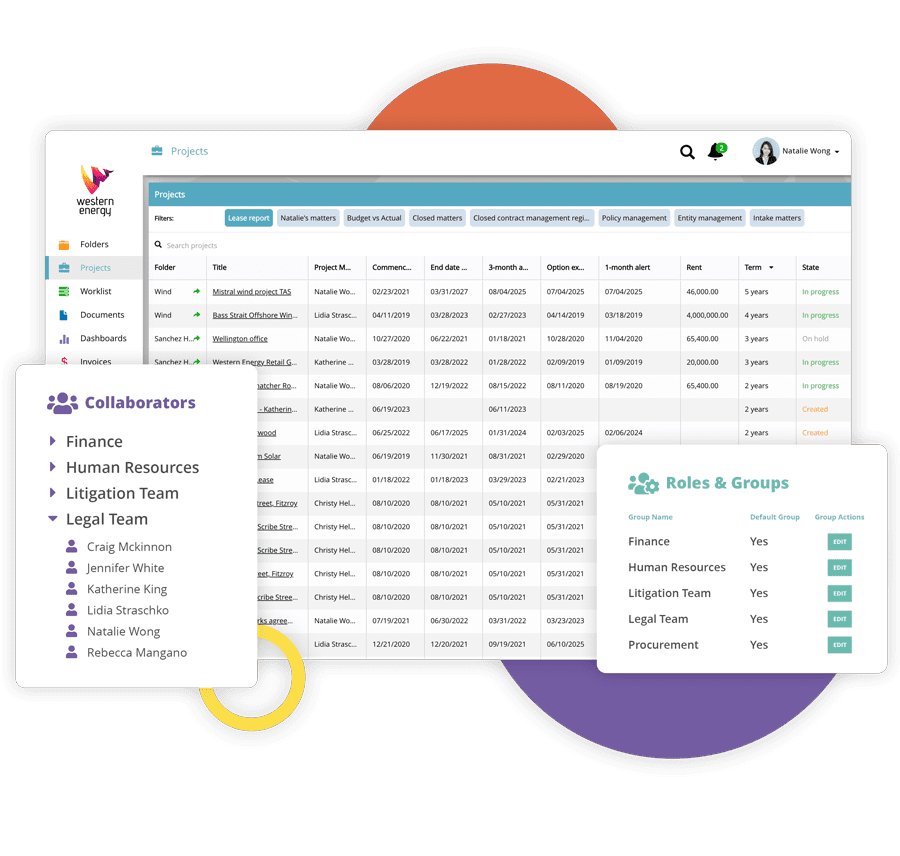 A cost-effective, time-saving solution for corporate legal departments to manage external counsel
Our legal vendor management system is a powerful tool that simplifies legal services. This comprehensive approach is designed specifically for legal departments in-house managing outside counsel, legal panels, firms, varied fee arrangements, and legal vendors.
Legal vendor management software
Get a 360-degree view of performance
Dazychain tracks vendor performance. The vendor management database provides data to enable you to evaluate the quality of your external legal partners and determine the best fit for your organization based on past performance. You can also build better engagement with providers by enabling transparency between all parties and providing detailed instructions from the outset.
Counsel management software
Connect internal and external counsel
This state-of-the-art platform offers a wide range of features to optimize your legal functions and achieve greater ROI from every minute of your external legal team's time. It streamlines administrative processes such as invoicing, contract management, and document sharing. It also facilitates better collaboration through seamless communication.
"[Dazychain] gives you some rich data to provide to the business on where your value as a support function lies, and demonstrates your ability to align your activities to the organization's strategy, principles and mission."
Legal panel management software
Find the best provider promptly
At its core, this cloud-based vendor database software serves as a centralized database that enables corporate legal teams to efficiently manage all aspects of their external legal business relationships. It provides a platform for creating panels of preferred suppliers, while storing information about your legal vendors, enabling you to compare based on cost, performance, and ratings.
"Having a single point of communication with our solicitors means that we are always reading all communication and we know the most current information regarding a file. It is also fantastic to be able to know when solicitors have seen our instructions and have started work on the file."
Make your data work harder with Dazychain's legal analytics platform!
Dazychain creates tangible client outcomes, for legal teams around the world. We streamline the management of complex matters, and provide detailed strategic reports and dashboards for decision-making. With our cloud-based platform, your in-house legal counsel can leverage the power of artificial intelligence to increase efficiency and keep pace with today's complex, data-driven legal practice.
See Dazychain in action
With Dazychain's innovative platform you can…
Showcase your strategic value

Track, measure, and present every legal decision, regardless of its size

Highlight your invaluable contribution to the company's growth and direction

Elevate your role with Dazychain as the spotlight that underscores your strategic prowess