Security
Data and privacy integrity you can trust
Robust. Reliable. Compliant. Certified.
Dazychain matter management software uses the latest technologies to protect your data and comply with government and industry regulations. Dazychain holds industry-leading certifications and has earned the trust of countless in-house legal teams.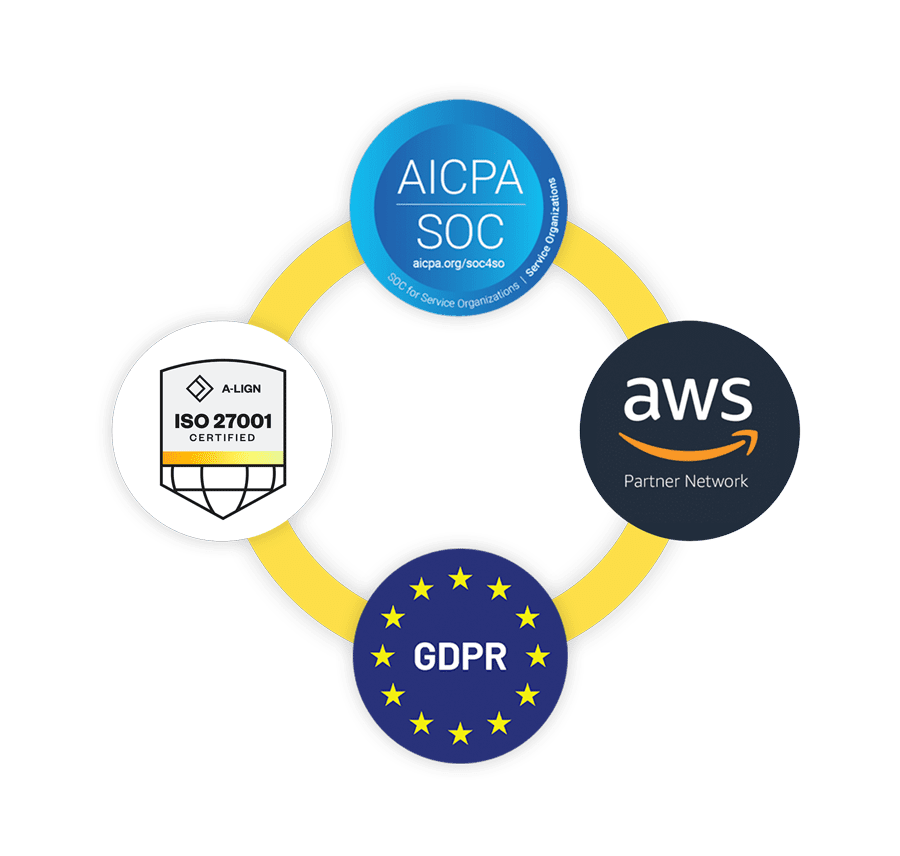 Regulations and certifications
In a sector built on trust and confidentiality, ensuring Dazychain complies with legal regulations and certifications is not just a checkbox. Adherence to regulations and maintaining certifications and adhering to privacy regulations is a top priority for the Dazychain team.
Employee security
Data security you can count on
All staff undertake police checks before they join the organization and again once every two years. Confidentiality agreements are signed by all employees, third parties and contractors.
During orientation, employees are briefed in detail on the organization's Information Security Management System policies. The policies are updated frequently, shared with employees and acceptance is documented. Training occurs each year.
Application server and network protection
Vulnerability protection and monitoring
Dazychain runs on AWS, leveraging multi-availability zones for high availability and redundancy. With state-of-the-art tools like AWS Shield and Amazon Guard Duty, we monitor and protect against vulnerabilities and threats, ensuring your legal management software remains available around the clock.
Privacy Act compliance
We comply with the Privacy Act 1988 (Privacy Act) and related Australian privacy and data laws.
Dazychain is also GDPR compliant. We collect and maintain a very limited amount of personal data, none of which is monetized.
We don't share data with third parties. Users may choose to share information with external lawyers if they wish.
Upon account termination, we retain customer data for the period requested by the customer, usually one month. After that time period, it is deleted. Alternative arrangements can be made on an ad hoc basis if requested by the customer.
Dazychain secure legal software for in-house teams
The matter-related data, documents and details you store are some of the most important assets in your business. Confidence in the security features of the case management software you use is a critical aspect of your organization's risk management protocols.
Dazychain improves efficiency, supports compliance, streamlines workflows, supercharges integration and generates exceptional reports. It's also an important tool in your legal suite that delivers peace of mind that the information you collect and store is protected against evolving threats.
See Dazychain in action
With Dazychain's innovative platform you can…
Showcase your strategic value

Track, measure, and present every legal decision, regardless of its size

Highlight your invaluable contribution to the company's growth and direction

Elevate your role with Dazychain as the spotlight that underscores your strategic prowess