Find and Reuse Everything
Effective knowledge management for legal departments
Search. Find. Reuse. Transform.
The legal department deals with valuable knowledge and data from multiple internal and external sources, and requires a system in which information is reliably stored, readily accessible, and easily shared with relevant stakeholders.
Our state-of-the-art legal matter management software provides in-house legal teams with a centralized repository of structured and searchable information for quick retrieval and reuse.
Information is structured by projects, matters, deliverables, documents, and invoices, each of which can be viewed and filtered within Dazychain.
Find and reuse knowledge assets to manage compliance, share information with peers, and unlock the true potential of your in-house legal team with Dazychain's robust legal knowledge management solution.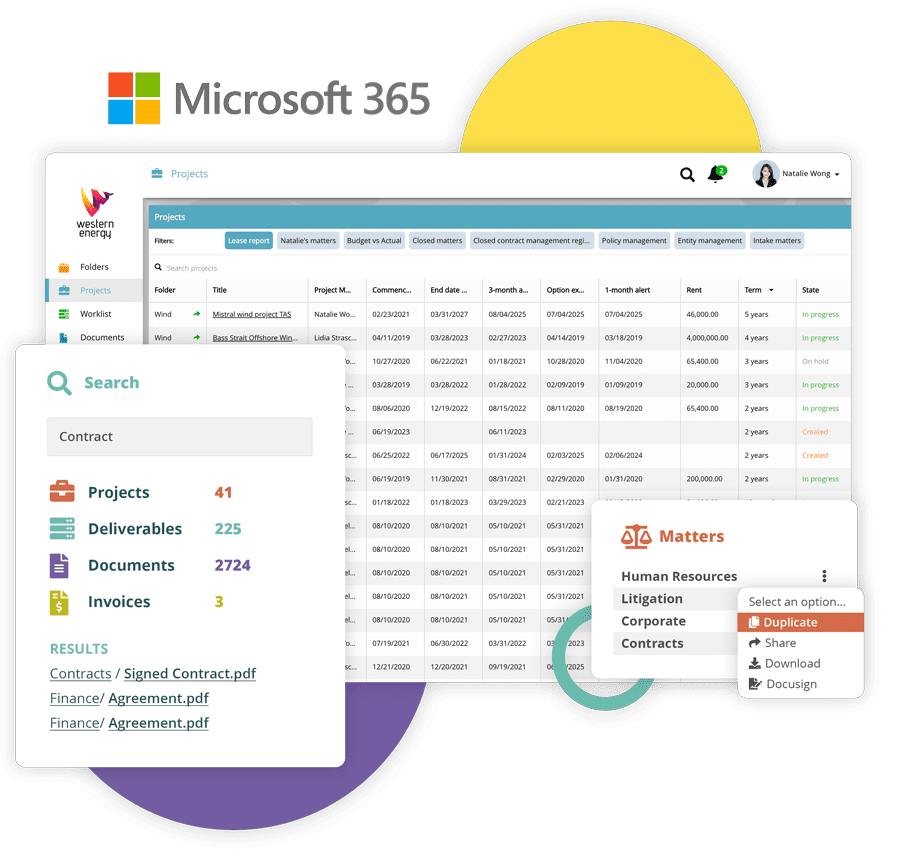 Increase accuracy, efficiency, and transparency when storing, searching, retrieving, sharing, and reusing key information
Use versioning, templates, and tagging to structure your documents and simplify and expedite the search process

All your legal knowledge at your fingertips
Even the most experienced legal teams can struggle with knowledge sharing and legal research. Our legal knowledge management solution, powered by AI, enables you to easily search, find, share, and use all critical matter information.
Significantly reduce the time spent looking for legal documents, deliverables, contracts, comments, and conversations. Effective knowledge management means your team has ample time to focus on strategy, execution, and decision-making.
Robust legal knowledge management for corporate legal teams
Share knowledge quickly and easily
Streamline knowledge-sharing processes, improve collaboration, and ensure that critical legal knowledge is readily available to team members when needed.
"Another function that I find handy is that when I open a file I can add details about the matter type, business unit, and region because that makes it easier to search and to create similar matters in the future for accurate reporting."
Kirrilly Gordon
Group Commercial and Legal Manager
SEE Civil
Legal knowledge management for your in-house legal
Our legal knowledge management software is an ideal solution when it comes to resolving gaps in operational information retrieval and centralizing organizational legal knowledge. Use Dazychain's search function, and filters to find information, document titles, phrases within documents and related data. Utilize this legal intelligence to enhance your current operations, better organize information and reduce your team's dependence on external counsel.
An essential tool for implementing a sound knowledge management strategy

Quick, easy, and seamless search, source and share

Time-saving and budget-friendly knowledge management for legal departments

Effort-efficient approach to legal research
See Dazychain in action
With Dazychain's innovative platform you can…
Showcase your strategic value

Track, measure, and present every legal decision, regardless of its size

Highlight your invaluable contribution to the company's growth and direction

Elevate your role with Dazychain as the spotlight that underscores your strategic prowess