Integrations
Integrations for smoother legal workflows
Connect. Integrate. Streamline. Evolve.
Working between multiple platforms is frustrating, time-consuming and complicates data sharing and reporting. With Dazychain's seamless integrations, you can connect our platform to Microsoft Office 365 and Outlook email for more efficient and user-friendly workflows.
Create matters directly from your Outlook inbox. Send emails and documents to current matters. Drag and drop Microsoft Word documents to any part of the platform. Share documents with internal clients using our document management system that's both functional and familiar. Send DocuSign signed documents straight to Dazychain for secure cloud storage. Executed DocuSign documents return automatically to the Dazychain matter.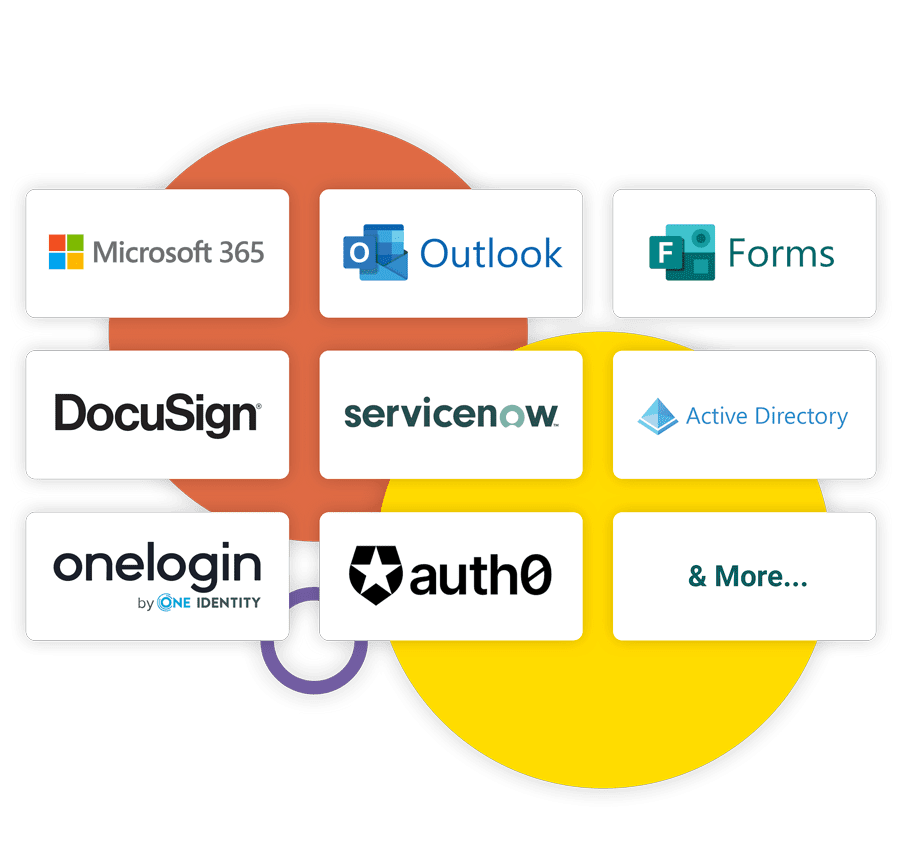 Streamline your in house legal processes with cloud-based integration
Dazychain integrations work seamlessly with existing systems, making workflows more efficient, improving data accuracy and facilitating collaboration among team members, external counsel and other stakeholders. Drag and drop, automate, share and edit with Dazychain, leveraging the power of the Microsoft 365 suite to manage email and store documents without multiple log-ins.
Dazychain Integrates with
Microsoft Office365 and Dazychain integration
Powerful tools working together for legal professionals
Microsoft Office 365 is standard operating software for in-house legal teams and most law firms. Double the power of the Microsoft Office Suite by using our simple integrating with Dazychain matter management software and accessing the combined features of both platforms. Our cloud-based platform means the entire organization from in-house counsel to administrative staff can access the information they need when they need it.
"Dazychain has given our in-house legal team the ability to track and record matters efficiently and effectively. It provides a cost-effective solution to file management, risk management and track of legal expenditure."
Kirrilly Gordon
Group Commercial and Legal Manager
SEE Civil
Using DocuSign with Dazychain
Streamline electronic signatures
Electronic signatures are a standard part of automated document management processes. Together Dazychain and DocuSign streamline and automate the contract lifecycle to accelerate the document creation, review and authorization process. Dazychain serves as a centralized platform for managing legal matters, while DocuSign seamlessly integrates electronic signature capabilities into the workflow.
Integration set-up and optimization
We do it all so you don't have to
Every legal team operates differently. Our onboarding specialists work closely and listen carefully to your needs to ensure we configure the system to enhance your existing processes, and maximize your current tools.
As a legal tech company, we're always evolving
New integrations and cloud-based solutions for corporate legal teams
As a legal tech company, Dazychain is committed to evolving and innovating, always developing new ideas to leverage existing software and sophisticated tools for the benefit of our clients. We listen. We continuously improve our application and our processes. In fact, some of the best updates to the system are those suggested by our current customers.
If you have any requests for future integrations or other features, we'd love to hear from you.
See Dazychain in action
With Dazychain's innovative platform you can…
Showcase your strategic value

Track, measure, and present every legal decision, regardless of its size

Highlight your invaluable contribution to the company's growth and direction

Elevate your role with Dazychain as the spotlight that underscores your strategic prowess