Features
Powerful features to help your corporate legal teams manage legal operations easily
Increase Efficiency. Improve Accuracy. Reduce Cost. Control Risk.
Dazychain legal operations software supports your organization's digital transformation. We address the challenges of in-house legal departments or your legal operations' teams in managing matters, people, and documents with an effective system. Everything we do enables lawyers to optimize the department's workload and provide rapid advice to business requirements.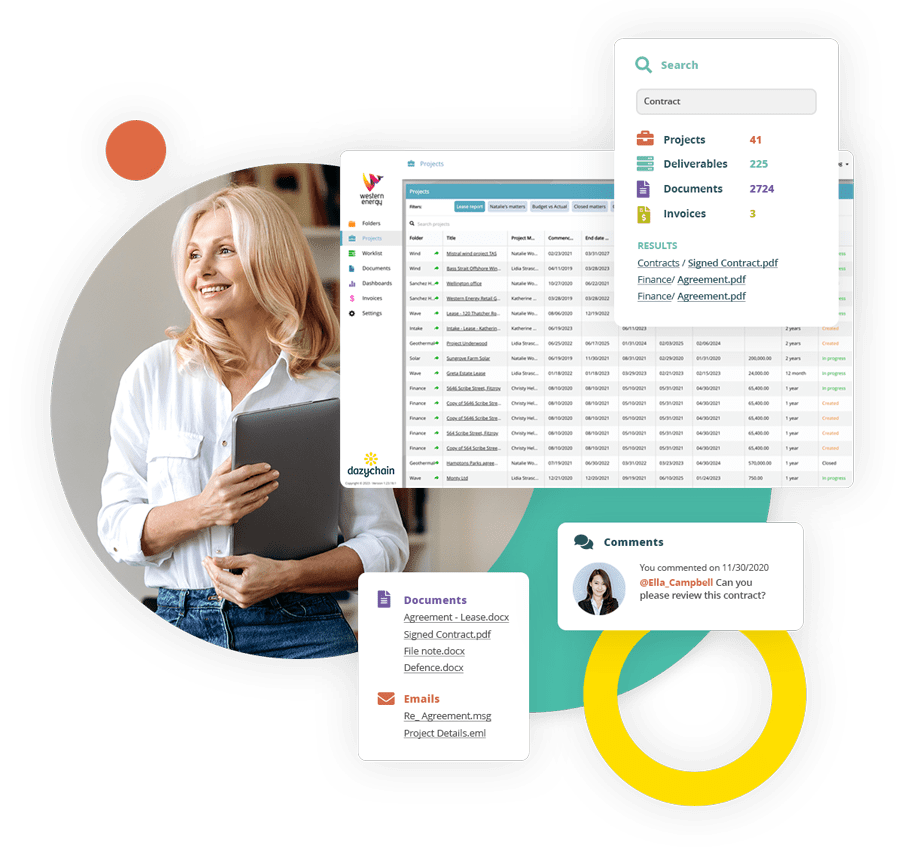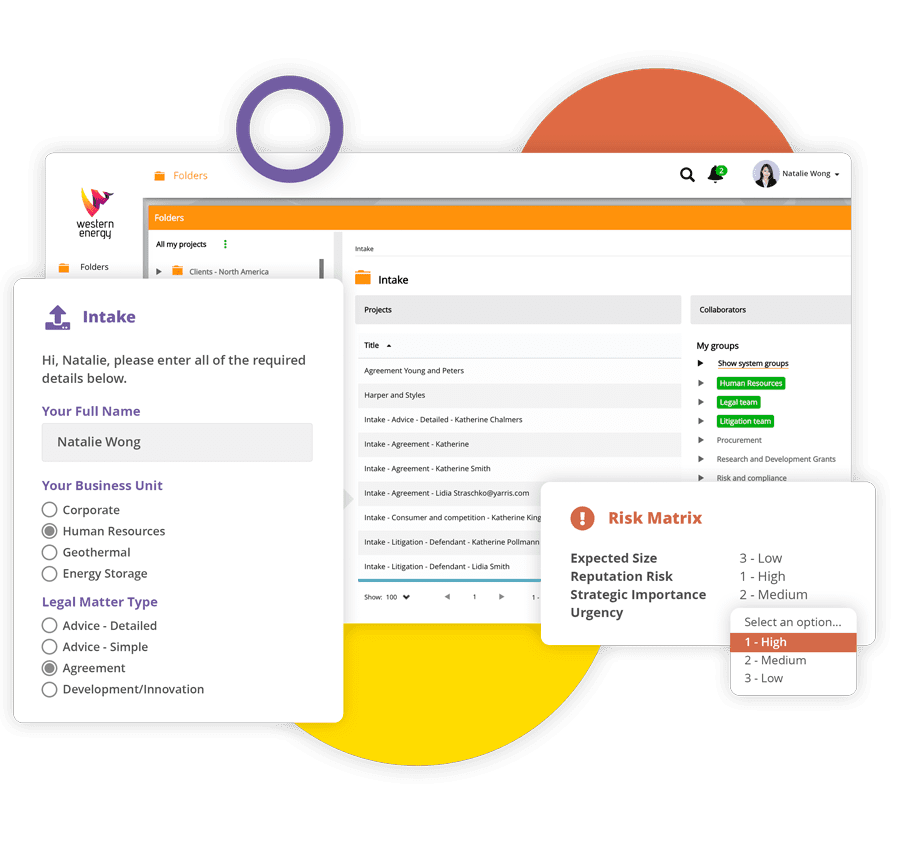 Intake and Triage
Dazychain revolutionizes the way legal requests are processed and managed. This innovative feature streamlines the inflow of legal tasks, ensuring that each request is captured, categorized, and routed to the appropriate legal team or individual swiftly. No more sifting through piles of emails or tracking down lost requests. The benefits are clear: a dramatic reduction in manual entry, faster response times, enhanced accuracy, and a seamless experience for both the requester and the legal professional. By automating intake, corporate counsel can focus on strategic legal work while enjoying a more organized and efficient legal briefing and request management process.
Matter Management
Dazychain's matter management platform is a game-changer for corporate counsel. We provide a centralized hub for all legal matters, enabling impeccable organization, tracking, and oversight. From the inception of a matter to its resolution, every detail is meticulously documented and easily accessible. Collaboration becomes seamless, with integrated tools facilitating team collaboration and document sharing. Deadlines are never missed, thanks to automated reminders and calendar integrations. Moreover, the analytical insights provided ensure that corporate counsel can identify trends, make data-driven decisions and continuously optimize their legal operations. With Dazychain matter management software, corporate legal teams are empowered with clarity, efficiency, and a heightened ability to drive strategic value.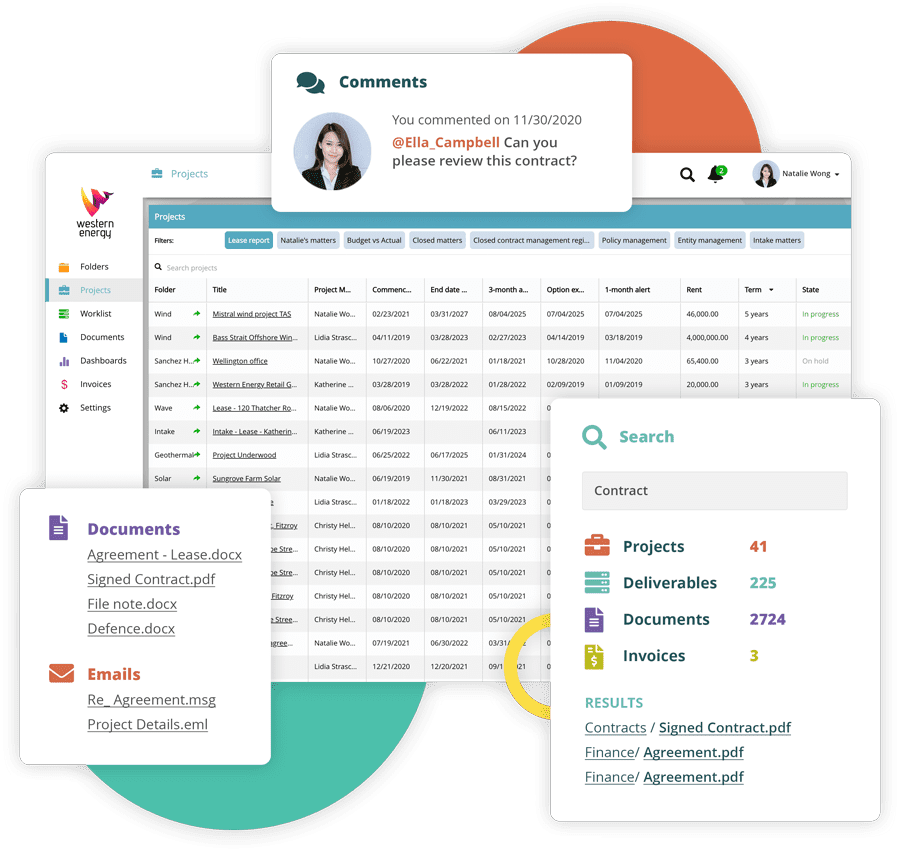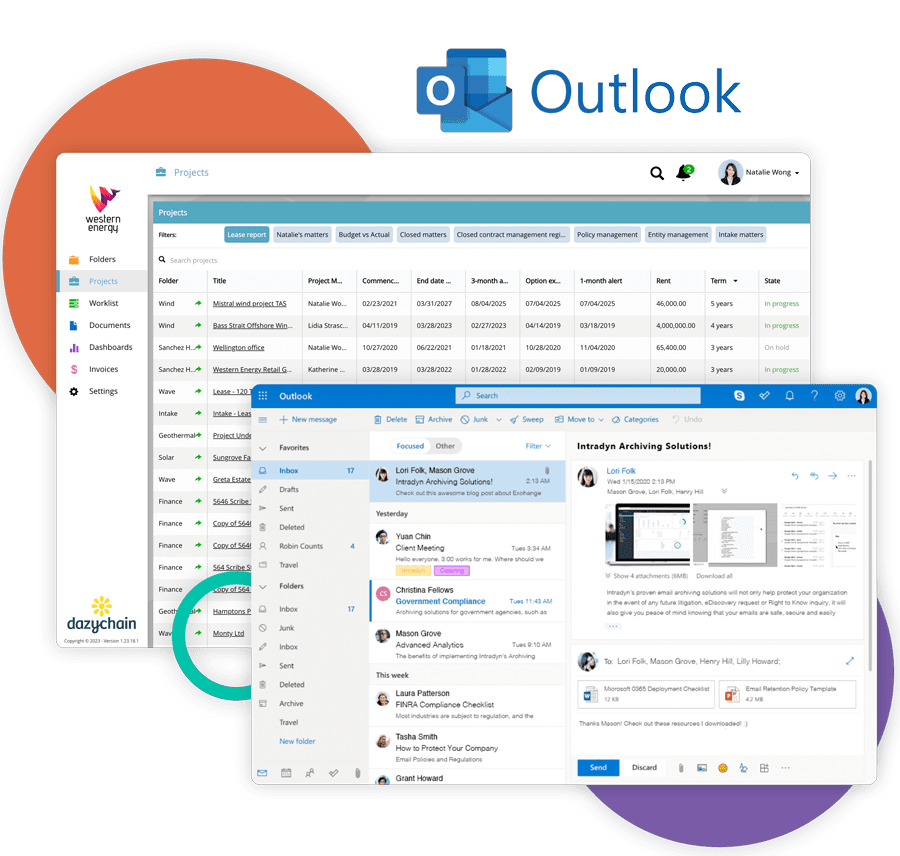 Email Management
Dazychain's email management system is a beacon of efficiency and organization for corporate counsel. Recognizing the pivotal role emails play in legal communication, Dazychain designed a system that seamlessly integrates with your inbox, ensuring that crucial information and correspondence never fall through the cracks. Key features include automated categorization of emails into relevant matters or cases, ensuring that every piece of communication is appropriately filed and easily retrievable. Attachments and crucial data points are also automatically captured and stored securely. The benefits are multifold: a decluttered inbox, reduced manual filing, immediate access to pertinent emails, and a holistic view of all communications related to a particular legal matter. With our email management, corporate counsel can navigate their electronic correspondence with unmatched precision and ease.
Document Management
Dazychain's document management system for corporate counsel drives effective organization and accessibility. Recognizing the vast array of documents legal teams handle daily, Dazychain offers a structured repository where every contract, memorandum, and legal file is securely stored, indexed, and easily searchable. Its intuitive interface enables seamless version control, ensuring that teams always access the most recent document iteration. Collaboration is simplified, with shared access, real-time editing, and annotation capabilities. The system also boasts advanced security features, ensuring that sensitive legal documents are shielded from unauthorized access. The overarching benefit? A streamlined, efficient document workflow that minimizes time spent searching and maximizes the time dedicated to strategic legal endeavors. With Dazychain's document management capability, corporate counsel can confidently handle their document-heavy tasks with agility and precision.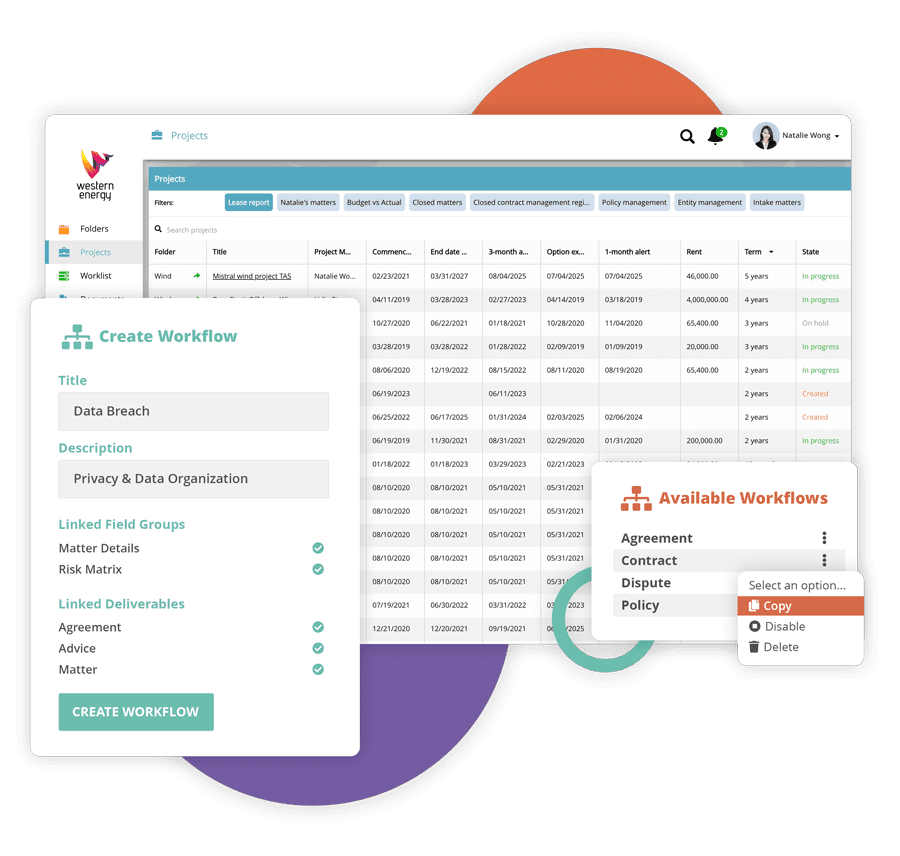 Workflow Management
Dazychain's legal workflow automation software helps in-house legal teams unlock their true potential with the help of customizable workflows. Legal workflow automation is crucial in bringing agility to corporate legal departments that often have to do more with less. That's because legal workflow automation helps reduce the workload of legal professionals by automating routine and repetitive tasks.
Legal Data Analytics
Many legal teams struggle to demonstrate their strategic contribution to the organization. Data collection is often manual, with reporting hampered by a lack of detail and up-to-date information. In a crisis, finding and reporting on matters creating reputational risk is hampered by a lack of automated data collection and reporting. Dazychain corporate legal analytics software brings transparency to every aspect of your in-house legal department's legal workflows. This cloud-based platform is designed for the in-house legal profession, with legal analytics tools that generate detailed visual reports using your own custom data. Dazychain create reports that deliver strategic insights aligned with your business requirements.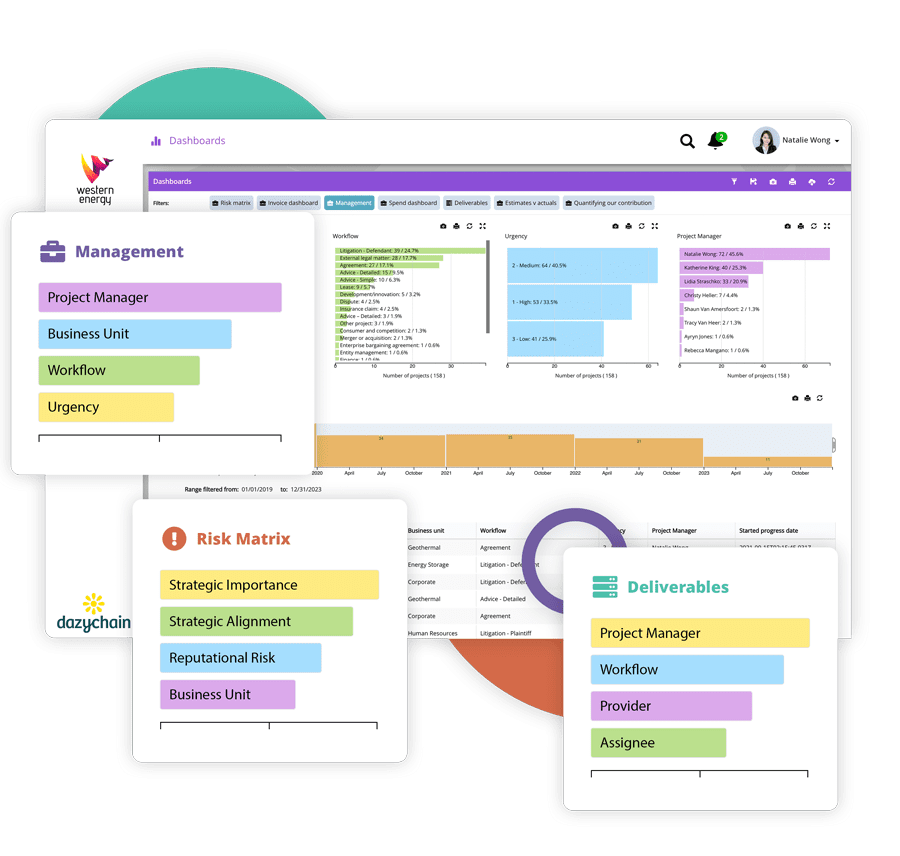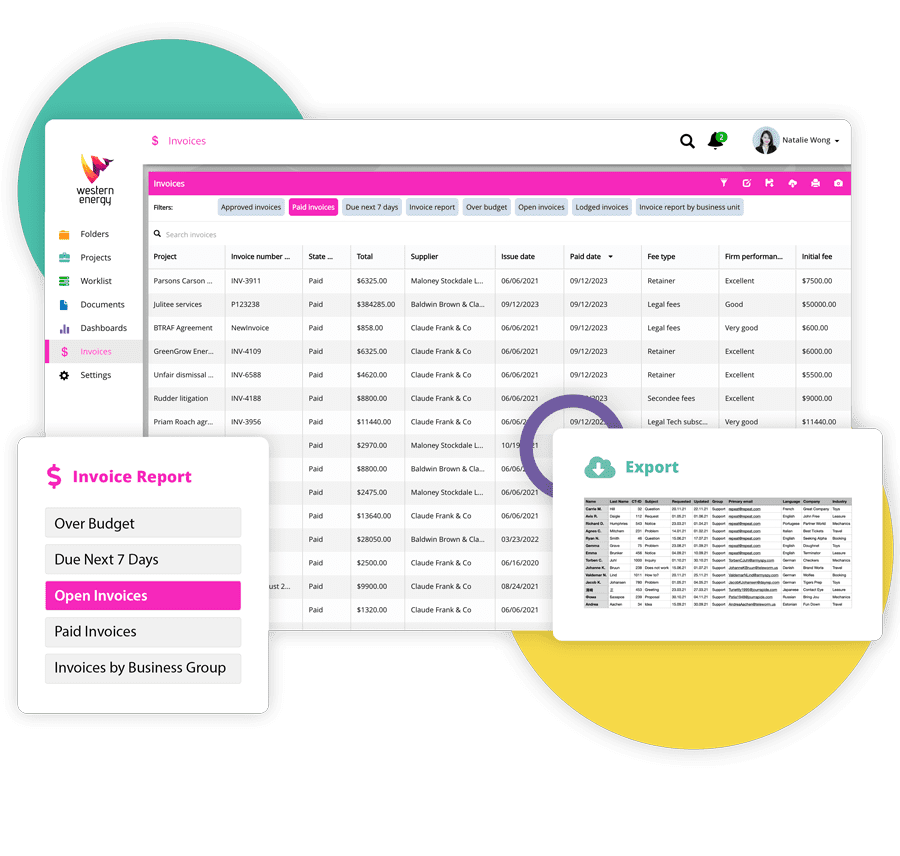 Legal Spend Management
Dazychain legal spend management system is a game-changer for corporate counsel, ensuring that legal expenses are always transparent, controlled, and optimized. The platform provides a holistic view of all legal invoices, from retainer fees to one-off payments. Features include budget forecasting and detailed breakdowns of all costs. By integrating invoice analysis, reporting, and approvals, Dazychain ensures prompt payments and avoids any financial discrepancies. The outcome? Corporate counsel gains a tighter grip on their financial operations, leading to a clear understanding of the value delivered. With Dazychain's legal spend management, every dollar's journey is accounted for, ensuring maximum financial prudence in legal operations.
Manage Legal Vendors
Dazychain's legal vendor management system offers corporate counsel a seamless, streamlined platform to oversee all interactions with their legal service providers. The platform centralizes vendor data, contracts, communication, and performance metrics in one accessible hub. Features include real-time collaboration tools, ensuring transparent communication between the legal team and vendors. There's also an integrated rating and review system, enabling corporate counsel to assess and monitor vendor performance, ensuring consistent quality of service. Contract terms, renewal dates, and billing details are tracked, minimizing administrative overhead. The benefits are undeniable: enhanced vendor relationships, transparent cost structures, and the assurance that the legal department is collaborating with top-tier service providers. With Dazychain's vendor management system, corporate counsel can efficiently harness and optimize their external legal resources.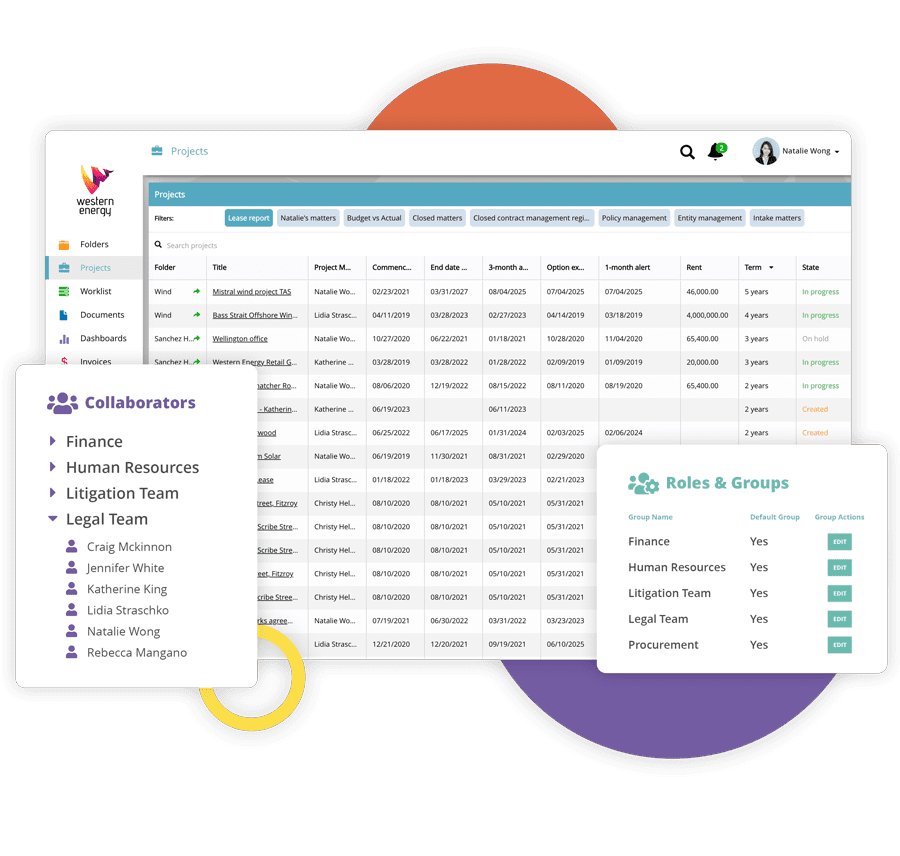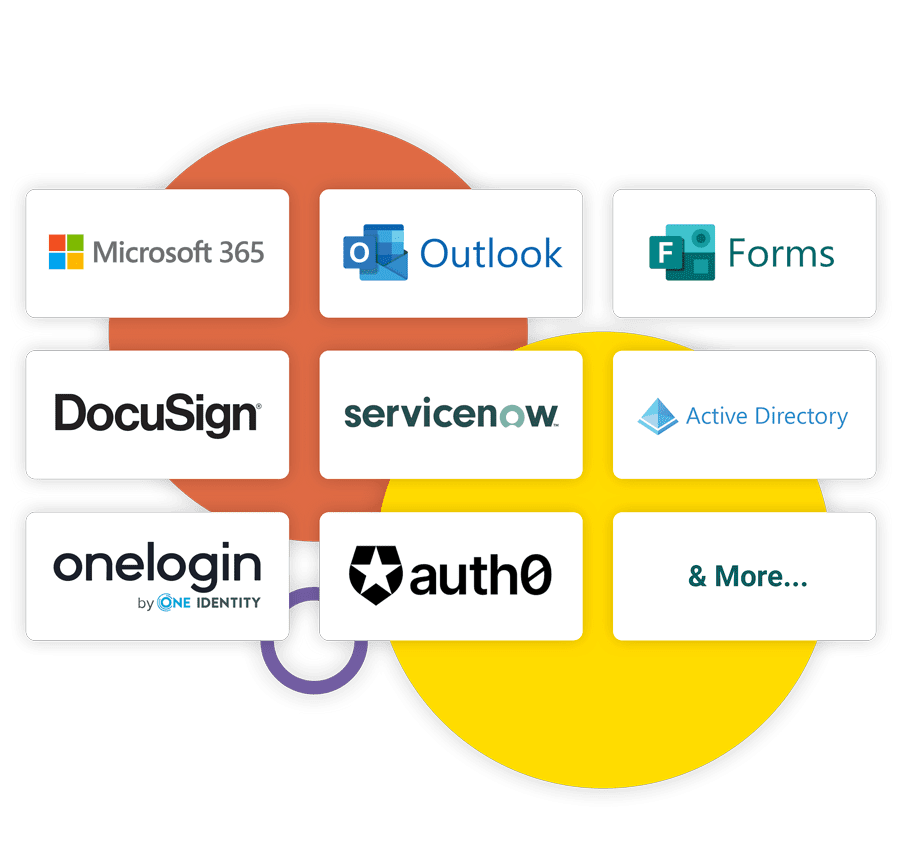 Integrations
Harnessing the power of integrations, Dazychain offers corporate counsel an expansive and seamless tech ecosystem. Recognizing that legal teams often juggle multiple software solutions, we ensure smooth interconnectivity with other essential business tools. From document editing software such as Microsoft Word to email communication with Outlook, integrations ensure that all data and correspondence flow effortlessly into a centralized legal hub using drag-and-drop functionality. This seamless meshing of technologies eliminates the need for manual data transfers, reducing errors and saving precious time. Notably, integration also means that insights from different tools can be collectively analyzed, providing a more holistic view of operations and helping in more informed decision-making. With the integrative capabilities of Dazychain, corporate counsel can operate in a cohesive, interconnected digital environment, amplifying efficiency and collaboration.
Security
In the digital age, security is paramount, and Dazychain stands as a pillar of trust for corporate counsel. Recognizing the sensitive nature of legal data, we deploy state-of-the-art security protocols. Encrypted data storage, rigorous access controls, and regular security audits ensure that confidential information remains strictly in the right hands. Multi-factor authentication through single sign on adds an extra layer of protection, safeguarding against unauthorized access. Additionally, we adhere to global compliance standards of SOC 2 and ISO 27001. Our cloud infrastructure benefits from real-time threat detection and continuous backup systems, ensuring data integrity and availability. For corporate counsel, the enhanced security measures of Dazychain provide peace of mind, enabling you to focus on legal tasks with the confidence that your data is shielded by the best protective measures in the industry.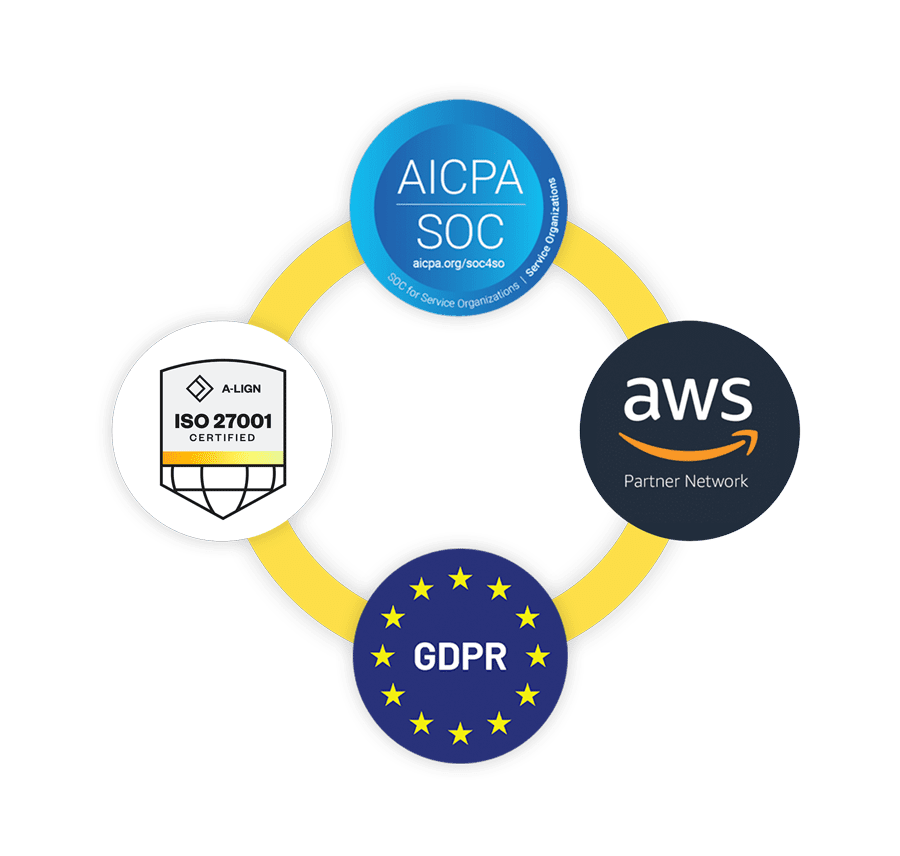 Guaranteed security enhancement
Data breaches can compromise the integrity and reputation of your company. The Dazychain legal operations software runs on GDPR-compliant cloud technology designed to safeguard your sensitive information.
With encryption in transit and at rest, data leak detection, and backup capabilities, our system protects you from possible legal liabilities.
See Dazychain in action
With Dazychain's innovative platform you can…
Showcase your strategic value

Track, measure, and present every legal decision, regardless of its size

Highlight your invaluable contribution to the company's growth and direction

Elevate your role with Dazychain as the spotlight that underscores your strategic prowess