Software for In-House Legal Counsel
Simplify everyday tasks with in-house legal software
Automated. Efficient. Collaborative. Agile.
In-house legal teams deal with high-risk, time-sensitive matters and data. As the gatekeepers of the business's reputation, the in-house legal team also manages high volumes of internal and external matters of critical commercial importance.
Corporate legal departments manage large volumes of matters, from contract negotiation, the provision of advice, litigation, intellectual property arrangements, corporate governance, regulatory issues and engaging outside counsel.
Dazychain's in-house legal department software helps you to become structured, organized, efficient, and accessible for a cost-effective price. Dazychain offers simple, configured solutions to multiple challenges affecting the legal operations for small legal teams.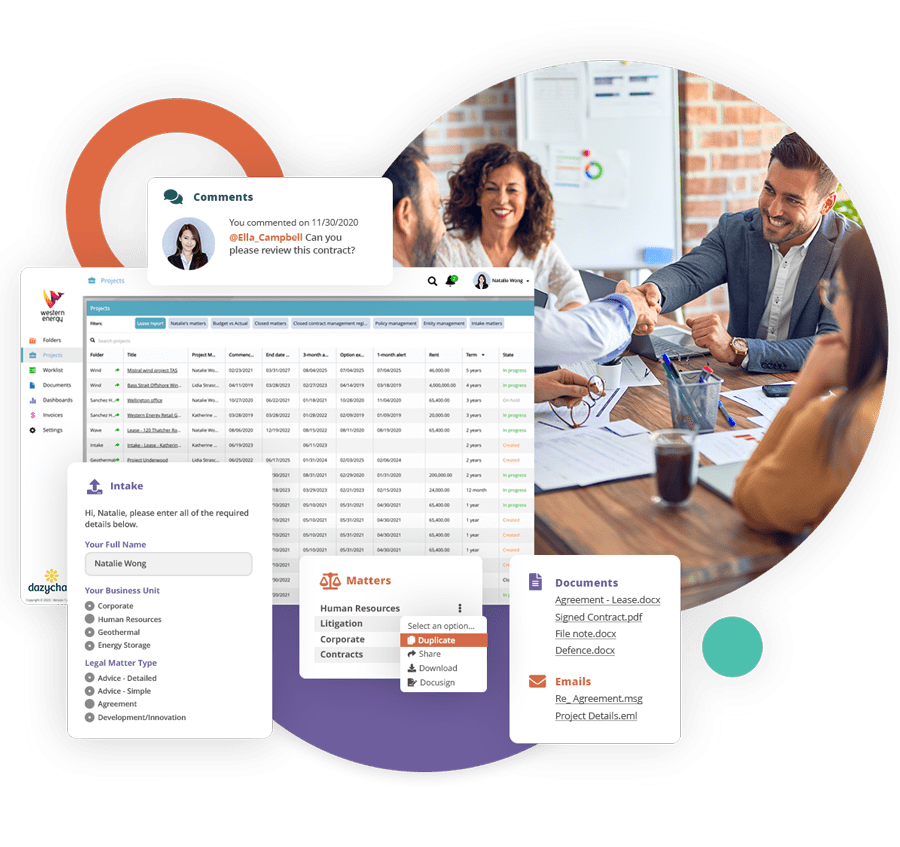 Enabling in-house legal teams to make better business decisions
Our in-house legal team software provides a dynamic set of features that helps legal teams gain complete visibility over their daily proceedings, optimize administrative tasks, automate current workflows, and enjoy easy collaboration with other departments on legal matters.
Dazychain seamlessly integrates with Office 365, Microsoft Outlook, Microsoft Word, Microsoft Excel, DocuSign, and SSO providers to maintain a single source of truth in your organization.
Experience total control, save valuable time, find and reuse every matter and document you need to increase productivity.
Legal workflows
Get more done with limited resources
Staffing, budget, and technology constraints are common challenges in effectively managing legal matters. With Dazychain matter management software for corporate legal departments, work flows efficiently—even with a lean workforce, inadequate tools, and financial restrictions. Here's how you can optimize your legal matter management systems with Dazychain:
Process management and task prioritization
Efficient in-and-out control
From receiving legal requests initiated by various business units to archiving all their associated documents, a corporate legal team handles multiple tasks. Working on each step is a complex endeavor that may cause critical details or functions to fall through the cracks. Why take the chance when you can use a tool like Dazychain to facilitate the whole process?
"The lawyers use it in different ways and integrate it into their chosen way of working. The ones that really have become Dazychain advocates see that it is a way for them to track their own work and demonstrate that work to the team and the CFO. They can also demonstrate their work in the areas of the business they support."
Helen Carr
Senior Legal Counsel
MYOB
Create a single source of truth
Organize and centralize
Managing legal matters is complex and disorganized without a centralized structure for storing, organizing, and working on legal matters. Mismanagement or oversight may create additional risk.
Automated workflows
Improve efficiency and productivity
In-house legal teams often require complicated workflows to manage matters and relevant stakeholders. Manual workflows can be time-consuming, counterproductive, and increase the risk of errors. Dazychain automates and streamlines complex processes and enables teams to optimize resource allocation to reduce bottlenecks and accelerate task completion.
"I really like Dazychain. It works well for what we need and it's such an improvement on what we had before. It feels good. I am much more relaxed about our process now because we all know there's no point saving something unless you can find it again."
Risk and compliance management for your legal department
Never miss a deadline
Supervising legal collaborations, the status of outsourced legal counsel, and any other obligations to ensure no deadlines are not missed is critical to the well-being of any business.
However, staying on top of things may not always be feasible for small legal teams dealing with multiple tasks simultaneously.
Integrate Matters, emails and documents
Secure, cloud-based storage
Legal teams receive and send hundreds of emails daily. Without a structured approach to email management, handling inboxes can be overwhelming. Important documents, communications, and attachments may be lost or unsearchable, particularly if a team member leaves the organization.
"…a flexible system and gave us a lot of configuration options, so that out of the box we could configure it to the way we worked as much as possible."
Simple, cost-effective matter management
Automate, search, share, find and reuse
Manage every step of every matter from intake to resolution, with alerts at key milestones. Automate administration and repetitive tasks so your team can focus on matters. Collaborate seamlessly with internal team members and external counsel. Create comprehensive reports on individual matters and immediately export for external stakeholders or compliance.
Get access anywhere, anytime
Find the information you need
Decentralized storage systems are a roadblock to achieving control over corporate legal operations processes. Many teams store data in a range of places such as shared folders, Outlook email folders, desktops or unstructured personal folders. This creates risk, confusion and security issues. Further, if a team member leaves the organization it's difficult to find, manage, and reuse their matters. Dazychain's simple, end-to-end, cost-effective legal matter management software is the solution.
"We are saving at least two hours a week per person, or probably more, using Dazychain."
Kirrilly Gordon
Group Commercial and Legal Manager
SEE Civil
Transform your legal department
Dazychain matter management systems are the ideal choice for your team. This legal matter management software suite is designed specifically for in-house legal departments. Built from the ground up, it provides the features, functionality, and flexibility you need to deliver real value to your entire organization.
Centralize emails and documents

Increase accountability through transparent, automated workflows

Know exactly where your organization stands in regard to crucial matters
The answer to in-house legal team challenges
Dazychain understands the complex role played by in-house corporate legal teams. Dazychain in-house legal software simplifies and automates complex legal processes and services. We help small legal teams make efficiency gains and operate seamlessly in a collaborative working environment.
End-to-end matter management
State-of-the-art automation
Cost-effective software
Simple, intuitive interface
See Dazychain in action
With Dazychain's innovative platform you can…
Showcase your strategic value

Track, measure, and present every legal decision, regardless of its size

Highlight your invaluable contribution to the company's growth and direction

Elevate your role with Dazychain as the spotlight that underscores your strategic prowess