Legal Spend Management
Legal spend management solution for in-house legal teams
Manage. Review. Allocate. Optimize.
Keeping track of spend on law firms is a key reporting requirement of most in-house legal teams. However this task can be tedious, effort-intensive, and prone to errors.
Dazychain's end-to-end legal spend management module helps you manage legal spend, streamline the process, and analyze spend data to measure ROI for your legal spend. With Dazychain, in-house legal teams gain total control over legal expenses.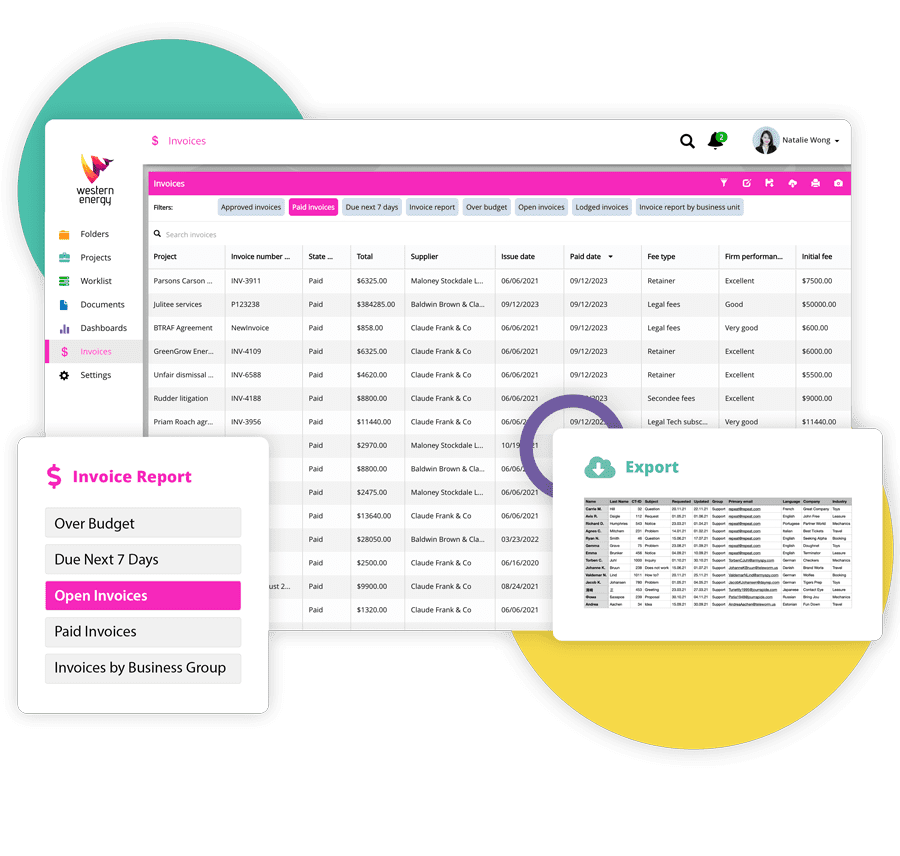 Optimize your legal spend management with cutting-edge technology
Dazychain's legal spend management solution monitors your expenses, analyzing the performance of outsourced legal counsel, reporting on budget versus actual spend, and more. Our legal spend management system helps you keep all your legal spend records in one place, and use data-based insights to report on spend by a range of variables such as law firm, business unit, quarter, or year.
Critical analysis of legal spend
Understand where you're spending money and why
You may have allocated a budget for legal spend, but are you getting the expected performance and result? Structuring and analyzing spend becomes a headache when you have no way of sorting, reporting and allocating legal spend.
Dazychain enables you to examine where your spend is increasing, then make decisions based on that spend. For example, if you spent $400,000 on external legal firms to create contracts, you may be able to use Dazychain data on legal spend to argue the business case for an internal contract management resource to reduce external spend.
Centralize control of legal spend
Access historical data in a few clicks
It's difficult to keep track of your legal expenses if they're decentralized. Scouring through a pile of invoices and bills, each with a multitude of line items from different drives and folders, is inefficient and tedious. Interacting with finance for clarity on invoices can waste valuable time.
Simplify everyday operations by consolidating legal spend management resources and centralizing storage. Keep track of legal invoices in one convenient place.
Law firms can send their invoices directly to Dazychain, or your finance administrators can create supplier cards and invoice totals for reporting purposes.
"We are saving at least two hours a week per person, or probably more, using Dazychain."
Kirrilly Gordon
Group Commercial and Legal Manager
SEE Civil
Upgrade to our legal spend management software
Dazychain is committed to streamlining, structuring and simplifying every aspect of your in-house legal matter management. Our dedicated legal spend management module offers a simple solution to manage legal fees for all your external legal spend management.
Automate manual tasks to improve team productivity

Access real-time updates with one click

Measure the performance of your outsourced legal counsel

Understand legal spend across divisions and work types

Create performance ratings and comparisons to help you choose the best law firm for the matter
See Dazychain in action
With Dazychain's innovative platform you can…
Showcase your strategic value

Track, measure, and present every legal decision, regardless of its size

Highlight your invaluable contribution to the company's growth and direction

Elevate your role with Dazychain as the spotlight that underscores your strategic prowess