Is COVID-19 taking women lawyers' careers back to the 1950s?
By Tracy Van Heer, General Manager
It was with delight that I joined this webinar. The panel speakers were all from different parts of the globe, which was excellent and gave us a global view of the topic and the current times we are facing.
430 people from around the world registered for this event therefore demonstrating that this is still a hot topic.
 A wonderful panel – thanks to Sally Dyson, Christina Blacklaws, Georgia Dawson Hanim Hamzah Neelam Kaul Nguyen Ha Quyen Hoang, Serena Wallace-Turner Weiwen Wang and Yosr Hussein Hamza
There were many different perspectives with cultures, religions and traditions being barriers and topics of conversation. Each panel member represented their global perspective.
Shanghai has many female legal leaders and the diversity balance in legal is a fair playing field. Why is this the case there? Grandparents, the extended family play a big part is assisting to bring up the younger generations while the parents can both work knowing that the children are being well looked after. This is a tradition that has proven itself over generations in these regions. All parties benefit, parents, children and grandparents.
In Middle East they felt that are suppressed, tradition and culture play a big part here and breaking down these barriers for women will be a long hard road.
In Vietnam some Senior Legal eagles got together and are sharing parenting with other mothers, taking turns to have the groups of children at their homes on the "non-busy days" so others can be at 100% dedicated to their work that day knowing the children are safe and happy. Again, cultural issues are present here and it is expected that when it comes to the home duties that the women will take care of these and squeeze work in around it.
In South-East Asia they felt that women can have a career but the invisible work that women do is not recognised. Organising the kids, making sure they have lunches, the correct uniform, the right timetable, etc. This was expressed very sincerely and with the invisible work not bring acknowledged it left little room for senior or leadership careers
Some poll results done during the webinar: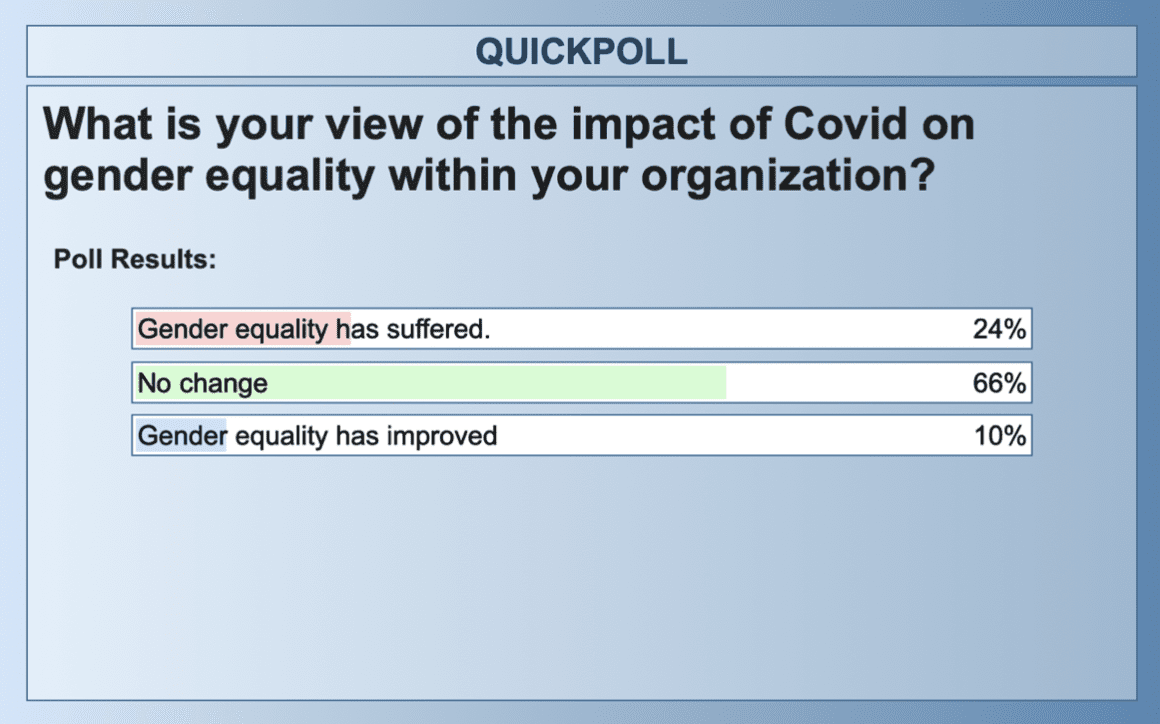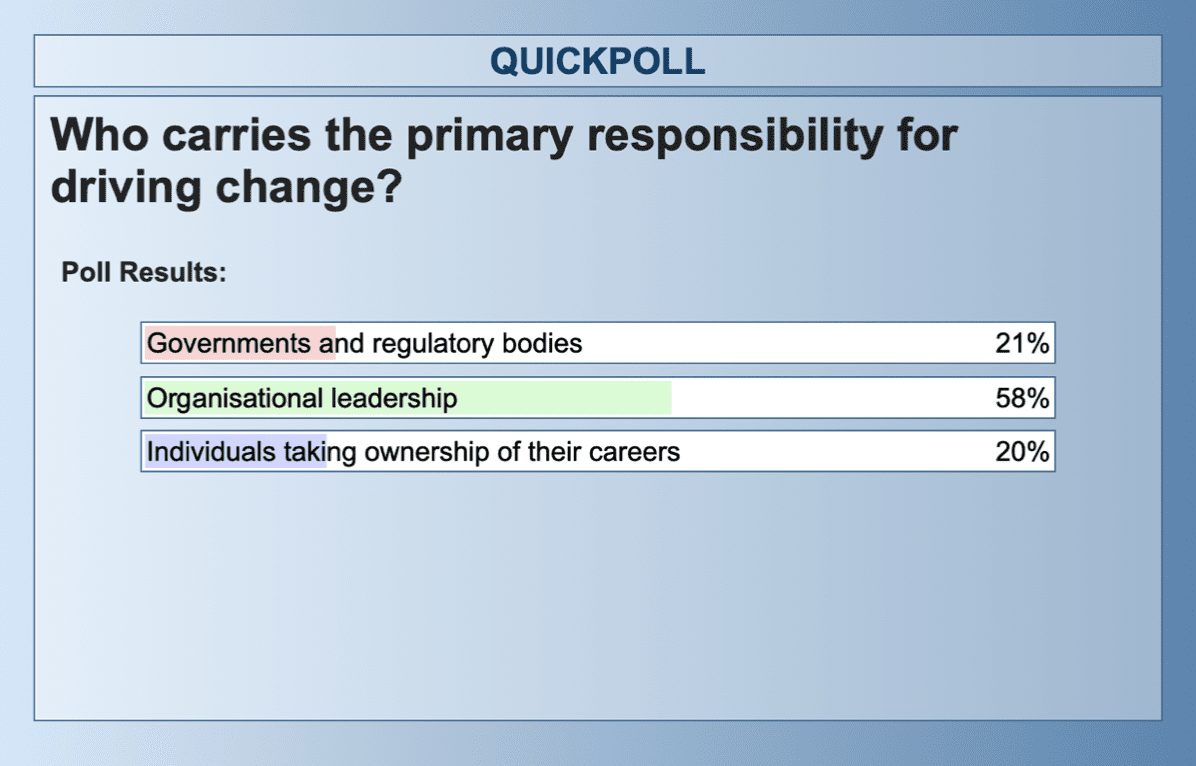 Overall the global panel felt that there is now a massive uptake in digital technology because of COVID. Technology is bringing terms together and mental health is key to assisting it.
My personal view on the topic is slightly controversial… I believe that women change when they have a family and that the career path they have always fought for becomes less important. They are in fact probably not applying for Senior partner roles due to the balance and the pressure it will put on working mothers.
Women who are in senior roles either got there due to commitment or because they were female, and a mandatory female percentage was required in that organisation. At times it's not always the best person for the job but we need females so promote them first. This is great then we get it right, but we are doing no favours if that female is not right for the job and the circle begins again that women do not make good leaders.
I believe that women are offered a seat at the table but as working mothers do they want them? Are they even applying for them? These points need to be looked at more closely and analysed. Human nature has made females change when they become mothers and this, we cannot fight without sacrifices that most working mothers are not prepared to take.
Interested in exploring Dazychain's solutions?